Kumano City has a population of about 20,000. It is surrounded by the sea to the southeast and mountains to the northwest. There are many places where one can see spectacular views of the mountains and ocean, particularly on the Kumano Kodo, which is registered as a World Heritage.
熊野市位于三重县南部,人口约2万,东南环海,西北依山,是一个自然环境非常优美的地方,以已注册为世界遗产的熊野古道为首,有很多这样依山傍海的绝色佳境。
Regarding agriculture, the cultivation of citrus fruits raised in the temperate climate of Kumano thrive. Out of the many varieties of Kosan citrus, one known as  "Niihime", a specialty product of Kumano, has been selling in great numbers. In the mining industry, Kumano is the only place where a particular stone known as "Nachiguro Stone"  is found and produced in Japan. It is processed into "Go" stones and  other crafts and its beauty has earned it a high reputation. Kumano city is surrounded by nature and has a rich history and culture which can be seen  in sites such as the World Heritage "Kumano Kodo", "Onigajo", "Shihiiwa", "Hana no Iwaya", and, chosen as one of Japan's 100 best terraced rice fields, "Maruyama Senmaida".
在农业方面,温和的气候孕育了,柑桔种植业的蓬勃发展,香酸柑橘「新姫(にいひめ)」作为熊野市的特产上市,深受大家的喜爱。在矿业方面,这里是日本唯一的「那智黒石」产地,加工成围棋子或各种工艺品,它的美丽赢得了很高的声誉,世界文化遗产以「熊野古道」「鬼城」「獅子岩」「花窟」为首,还有日本梯田百选之一的「丸山千枚田」等,都是大自然孕育而成的。

●9 days; Explore through out the central of Japan and experience the Japanese "spirit".
Start from Kumano Kodo(熊野古道) old trails for pilgrims to one of the most popular town for foreign tourists "Kanazawa(金沢) city" via numerous castle and scenic sites. 9 days might not enough for filling your curiosity, but why not follow your instincts?
Detailed information of model course of 9 days trip "昇龍道 Shoryudo (the route of rising dragon)" can be found HERE.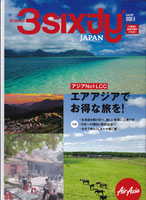 ●Kumano city on 3sixty JAPAN by Air Asia Japan!!
Kumano city's famous "Maruyama Senmaida" terraced rice fields, the oldest shrine "Hana no Iwaya" and scenic "Dorokyou" river jet cruise are on the article of 3sixty JAPAN which has been pre-issued to celebrate Air Aisa Japan's up comming domestic flight.
The brochure is going to be distributed in Air Asia Japan's events such as Thai Festival in May. (See details here)
Please come and visit Asia's hot and beauty sight, Kumano city!
(See details of each sites. here)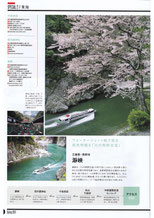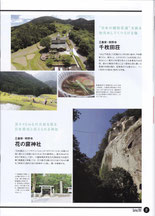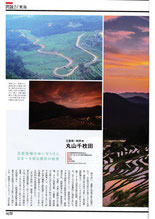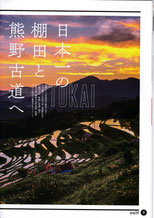 ●Kumano old trail, Maruyama terrace rice fields and Onigajo with the artist Mr.Yudai Tobinaga on Adobe Creative Cloud promotion video. Check the coolest video  and visit Kumano city to see with your own eyes!