First time Visitors
Kumano City has a population of about 20,000. It is surrounded by the sea to the southeast and mountains to the northwest. There are many places where one can see spectacular views of the mountains and ocean, particularly on the Kumano Kodo, which is registered as a World Heritage.
Regarding agriculture, the cultivation of citrus fruits raised in the temperate climate of Kumano thrive. Out of the many varieties of Kosan citrus, one known as  "Niihime", a specialty product of Kumano, has been selling in great numbers. In the mining industry, Kumano is the only place where a particular stone known as "Nachiguro Stone"  is found and produced in Japan. It is processed into "Go" stones and  other crafts and its beauty has earned it a high reputation. Kumano city is surrounded by nature and has a rich history and culture which can be seen  in sites such as the World Heritage "Kumano Kodo", "Onigajo", "Shihiiwa", "Hana no Iwaya", and, chosen as one of Japan's 100 best terraced rice fields, "Maruyama Senmaida".
在农业方面,温和的气候孕育了,柑桔种植业的蓬勃发展,香酸柑橘「新姫(Ni-yi-hi-me)」作为熊野市的特产上市,深受大家的喜爱。在矿业方面,这里是日本唯一的「那智黒石」产地,加工成围棋子或各种工艺品,它的美丽赢得了很高的声誉,世界文化遗产以「熊野古道」「鬼城」「獅子岩」「花窟」为首,还有日本梯田百选之一的「丸山千枚田」等,都是大自然孕育而成的。
熊野的历史和文化
「紀伊山地灵场与参拜道」于2004年载入世界文化遗产 今年注册成立10周年,在这里举办了很多具有纪念意义的活动。

The history and culture of Kumano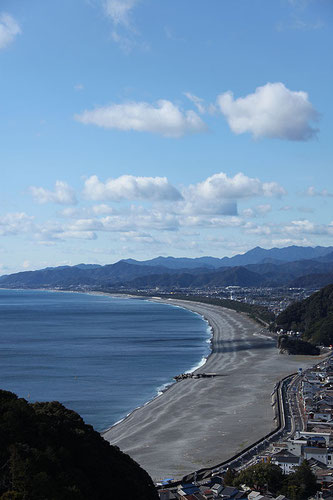 The World Heritage, "Sacred Sites and Pilgrimage Routes in the Kii Mountain Range"  was registered in 2004. Many events were held for the 10th anniversary in 2014. Historical sites and places of scenic beauty are plentiful in the the World Heritage. Some include "Onigajo", "Shishiiwa" ,"Hana no Iwaya" and "Shichirimihama beach". In addition, many people visit Kumano to participate in "Kodo Aruki", walking Kumano's old trails such as Matsumoto Pass and Obuki Pass which are part of the larger Kumano Kodo Iseji Route. Visitors who walk these old trails are healed by the landscape, the stone-paved paths and the stone Buddhas that remain from ancient times. Please come and experience Kumano Kodo Iseji, the road of resurrection.
熊野市位于三重县南部,人口约2万,东南环海,西北依山,是一个自然环境非常优美的地方,以已注册为世界遗产的熊野古道为首,有很多这样依山傍海的绝色佳境。
■熊野市「紀伊山地灵场与参拜道」在熊野市像「鬼城」「獅子岩」「花窟」「七里御浜」这样的世界遗产名胜古迹有很多。此外,古道位于熊野的"伊势路",有很多人为了寻求真理,前往松本峠、大吹峠,现代人为了寻求真实的自己而走上了熊野古道,古道中有远古时期留下的石阶和石佛等景观,相信可以疗愈每个人平日纷扰的心灵在旅途中重获平静。
请一定来熊野古道伊势路,亲身体验一下大自然的气息。